Naturopathy in North York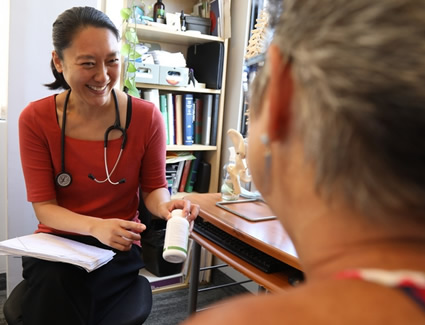 At Bayview Chiropractic Clinic, our qualified team provides a broad array of healing options. One of these is naturopathy, offered by Dr. Anh Linh Nguyen, ND. The services available within naturopathy include nutrition, herbal medicine, acupuncture, cupping, hydrotherapy, food intolerance testing and cosmetic acupuncture.
Get to the Cause
Your body has an innate ability to heal and recover. By getting to the root cause of your disease, we can overcome your problems using a natural, noninvasive approach. Nearly any illness can be reversed by making the right changes to your lifestyle.
The conditions seen most often for naturopathy include
Hormonal imbalances
Chronic disease
Fatigue
Insomnia
Digestive complaints
Get to Know Our Naturopath
Dr. Nguyen graduated from the Canadian College of Naturopathic Medicine in 2010. Additionally, she holds a bachelor's degree in molecular biology and a minor degree in kinesiology. Her certification in facial rejuvenation acupuncture gives further expertise in the many applications of this modality.
After graduating, Dr. Nguyen completed her internship at the Robert Schad Naturopathic Clinic, focusing on gastrointestinal health, women's health, chronic pain and stress-related conditions. She then worked at Sherbourne Clinic downtown, helping HIV-positive patients find natural, alternative solutions that would strengthen their immunity.
Our Naturopathy Services
Nutrition
Lose weight, shake off your fatigue. Get the help you need for difficult conditions such as diabetes, hypertension, high cholesterol, acne and eczema, as well as detoxify your body.
Herbal medicine
This can be a solution for people with hormonal imbalance, hypothyroidism, PMS, insomnia, migraines and headaches, IBS, heartburn and abdominal discomfort.
Acupuncture and cupping
Relieve your muscle stiffness, fibromyalgia, low back pain, arthritis, anxiety and more.
Facial rejuvenation acupuncture
Going beyond decreasing wrinkles, this form of acupuncture can improve muscle tone, increase collagen production, decrease puffiness, brighten your face and delay your hair turning gray.
Food intolerance testing
If you're experiencing brain fog, fatigue and digestive or respiratory problems, it may be due to a sensitivity to food. Other common reactions are joint and muscle pain, skin rash and disturbances to your mood and concentration.
Extended Health Plan Coverage
All naturopathic visits are considered to be a medical expense by extended health plans. The exception is cosmetic acupuncture, which is not a covered service.
Experience Greater Health
Contact Bayview Chiropractic Clinic today to schedule a free 15-minute consultation by phone or in person for naturopathy North York!
CONTACT US »

Naturopathy in North York ON | (416) 222-5084