Meet the Team
Get to Know Us at Bayview Chiropractic Clinic

Yvonne Wang – Massage Therapist
My name is Yvonne (Yue Hong) Wang. I am a Registered Massage Therapist (RMT), Registered Chinese medicine practitioner and Acupuncturist (R.Ac) who promotes lifestyle balance and wellness. I have been fascinated by the human body and health since I was a teenager. This led me to pursue a degree in biology and TCM (Traditional Chinese Medicine) program at university in China and RMT program at Kikkawa College in Toronto.
As a Massage Therapist, I am well versed with the Swedish Techniques, Fascial Techniques, Deep Tissue Massage, Sports Massage, Proprioceptive Neuromuscular Facilitation (PNF) techniques, and Manual Lymph Drainage. I am mostly enjoying with Satisfaction from seeing health improvements on patients and Getting better results by combining Western and Eastern techniques, such as acupuncture and massage.
I integrate Swedish massage, Chinese Traditional Massage with advanced muscle and joint injuries and conditions. I am extremely passionate in helping people and aims to provide the highest quality of care to my patients. I believe that the sense of touch is a gift of healing power that, not only manifest therapeutic effect but also support emotional well-being. My approach to massage is based on application of varying techniques that alleviate symptoms of pain and discomfort. I am motivating my patients with home exercises and good diet in hope to promote a good recovery. Mary Daotran – RPT, Physiotherapist, Medical Acupuncture
Mary Daotran has been a registered physiotherapist since 2000 after graduating from the University of Western Ontario. She's had years of experience treating:
Common aches and pain: arthritis of the neck, back, knee, shoulder, hip, hand, foot, elbow, jaw.
Sports injuries: tennis elbow, golfer's elbow, ankle sprain, knee or back strain, plantar fasciitis
Orthopedic conditions: rotator cuff, sciatica, carpal tunnel, trigger finger, TMJ, Bell's palsy
Motor vehicle accident injuries, whiplash, headaches, dizziness
Work related injuries, slips and falls
Read more about Mary Daotran »
Mary has combined the comprehensive knowledge of how the mind and body work with hands-on manual therapy; acupuncture, cranial-sacral therapy, therapeutic cupping and taping, electrotherapy, ultrasound, customized exercise program, bracing and splinting.
Mary believes in a holistic, individualized and active approach plus appropriate and specialized programs necessary for quick recovery and preventing re-injury.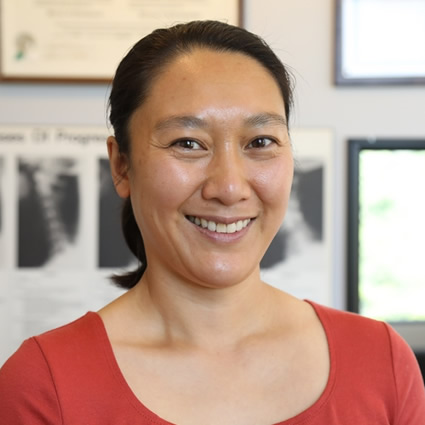 Dr. Anh Linh Nguyen, ND
My name is Anh Linh Nguyen. I have been practicing naturopathic medicine since 2010. I have seen many patients suffering from:
Hormonal imbalance
Chronic disease
Fatigue
Insomnia
Digestive complaints
And more!
I have helped many of them overcome their health problems using the body's innate healing ability. I utilize nutrition, herbal medicine, acupuncture, cupping, hydrotherapy, food intolerance testing and cosmetic acupuncture. I would love to help you find the root cause of your disease and if you would like to add a natural and non-invasive approach to treat your illness.

Bayview Chiropractic Clinic Team | (416) 222-5084