About Bayview Chiropractic Clinic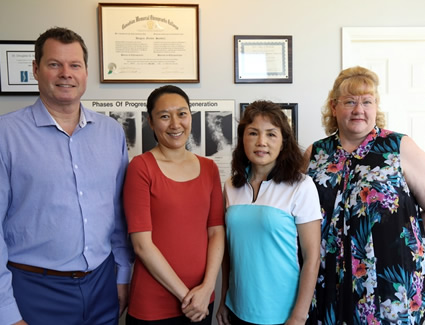 Dr. Doug Sandwell attended Canadian Memorial Chiropractic College, graduating in 1991. After graduation, he had the good fortune to work with his mentor, who had first introduced him to chiropractic back in high school. A year later, Dr. Sandwell was ready to go out on his own, establishing Bayview Chiropractic Clinic.
Growing up, Dr. Sandwell lived just a few kilometers away. He is honored to serve his home community with natural healthcare. At our office, you have access to a full suite of services including chiropractic, massage therapy, naturopathy, physiotherapy, acupuncture, orthotics and rehabilitation.
We Keep Your Best Interest in Mind
Regardless of the concern you're currently struggling with, know this is a place where you can get help. We'll sit down to discuss what your challenges are. If you're a candidate for chiropractic or anything else we offer, we'll let you know and you can choose if you'd like to move forward.
If we don't think that we can help you, we'll give you a referral.
Be Proactive About Your Well-Being
We understand that you likely are thinking about seeking help because you have a problem. We'll make every effort to clear up your specific concern, using any combination of our services to get you the best possible results.
Once you're out of pain, we hope that we'll have taught you a little about how to prevent your problem from coming back. Just like you go to the dentist regularly or take your car in for checks, chiropractic may be a preventative form of healthcare that keeps you well, now and in the future.
MEET DR. DOUG SANDWELL »
Ethical, Honest Care
We don't just believe in treating others how we'd want to be treated – with every aspect of our patient care, we think, "How would I want someone to treat my mother?" It guides us in best serving each patient.
The Many Successes We've Seen
After years in practice, our team has been fortunate to see some incredible changes take place. They include people with migraines, digestive issues, heartburn, menstrual pain, reflux and more. Dr. Sandwell is well-versed in pediatric care, having trained with the International Chiropractic Pediatric Association.
One woman had been trying to get pregnant for 10 years without success. She had some back issues and received care over a few months. Finally, she was able to get pregnant. Another favorite story is a woman who had three sinus surgeries but couldn't get rid of her congestion and sinus headaches. After an upper cervical adjustment, her sinuses drained right away.
Many seniors who seek our help have decreased mobility, low back issues and neck restrictions. We work to improve their health, so they have power and strength in their body. No matter what your concern is, we welcome the chance to consult with you.
Get Immediate Attention
Call or email us today to schedule a same-day appointment!

About Bayview Chiropractic Clinic | (416) 222-5084